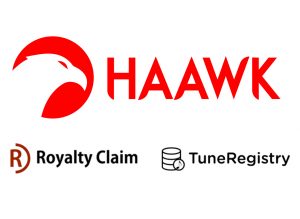 I'm pleased to announce that HAAWK, Inc. has acquired startups TuneRegistry and RoyaltyClaim.
HAAWK's mission is to create and retrieve newfound revenue for rights holders. Dae Bogan and the teams at TuneRegistry and RoyaltyClaim are the perfect fit for HAAWK as they are exceptional individuals that have created differentiated products that align perfectly with HAAWK's mission.
TuneRegistry, which launched at SXSW 2017, is a music rights and metadata management platform that empowers hundreds of independent artists and DIY musicians to "be their own music publisher" by enabling them to self-publish and retain 100% of their music royalties. TuneRegistry has developed an integrated network of data exchange partners within the music publishing and metadata management sectors that make it simple to streamline catalog administration tasks from one central platform. TuneRegistry partners include ASCAP, BMI, SESAC, SoundExchange, Harry Fox Agency, Music Reports Inc., Loudr, Crunch Digital, TiVo, Gracenote, MediaNet and many others.
RoyaltyClaim, which launched in September 2017, is a search engine for unclaimed and so-called "black box" music royalties. RoyaltyClaim procures data regarding unattributed and unmatched music entitlements from music rights organizations around the world and makes that information searchable and actionable. Copyright owners who find records referencing their copyrights are provided step-by-step instructions on how to go about claiming entitlements that may be due to them, including accrued unclaimed royalties. RoyaltyClaim has processed thousands of claims for Section 115 Notices of Intent (NOIs) filed by Google, Spotify, Groove Music, Amazon Music, iHeart Radio and Pandora, neighboring rights royalties around the world, and digital radio royalties in the United States.
HAAWK will continue to grow, expand, and improve upon these products as part of our growing portfolio of products and services helping rights holders maximize their earnings in the new media landscape.
Coverage of the acquisitions appeared in Billboard, Music Business Worldwide, Digital Music, News, and The Video Ink.